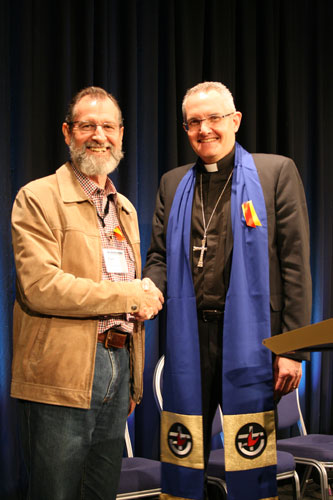 ON Thursday 19 July members of the 13th Assembly meeting in Adelaide, endorsed Stuart McMillan, the Northern Synod Moderator, as President-elect of the Uniting Church in Australia.
Mr McMillan will be President-elect for the next three years before he takes up the presidency in 2015 at the 14th Assembly in Perth, succeeding current President, Rev Prof Andrew Dutney, who took up the role on Sunday 15 July.
Mr McMillan said he was deeply humbled at the great trust the members of the Assembly had placed in him.
"Over the next three years, I will be doing a lot of listening, both to the spirit and to the church to prepare myself," he said.
He listed his passions as the covenant relationship, encouraging Indigenous leadership, the multicultural richness of the church being shared with congregations, and the advocacy work of the agencies UnitingWorld and UnitingJustice.
"My leadership style has been shaped by the Indigenous people I have spent the last 30 years with," he said.
"So I would want to involve those people in real ways, and also to seek a greater involvement from the multicultural folk in real ways – that is, to invite them to give leadership."
Members of the 13th Assembly of the Uniting Church in Australia also reappointed Rev Terence Corkin as General Secretary of the Assembly until 31 December 2015.
Photo : President-elect Stuart McMillan is congratulated by President Rev Prof Andrew Dutney