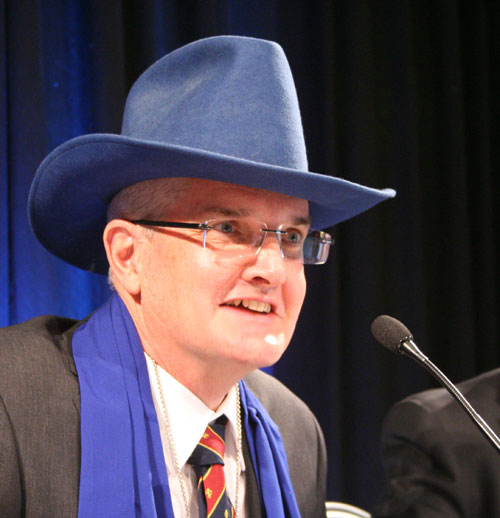 I'VE been introducing the Uniting Church to people for most of my adult life – its history, vision, values and structures.
I even wrote a booklet called "Introducing the Uniting Church in Australia".
I go to Uniting Church agencies to brief boards.
I go to Uniting Church schools to do professional development with teachers.
I go to Uniting Church councils and committees to induct new members into the nature of the church they've been elected to lead.
And I don't see this need for introductions slowing up any time soon.
For one thing, the church's health, welfare and educational agencies are continuing to grow and employ many people who are committed to the agency's mission but have no affiliation with the Uniting Church.
So the agencies are looking for opportunities to introduce their workers and volunteers to the Uniting Church and its ministry in Australia.
Or again, as migration patterns continue to develop and change we're delighted to welcome more and more people from Asia, the Pacific, Africa and elsewhere into the Uniting Church.
The denominations that they knew and loved in their home countries generally don't have congregations here and so they look to the Uniting Church for ways to build Christian communities appropriate to their needs.
And they look for opportunities to get to understand their new denomination – its vision, its ministry, and how they can share in it.
Religion in Australia is intensely voluntary.
People choose a religion for themselves, what parts they'll adopt or any pronouncements that their religion's official leaders make.
People don't take their religious affiliation as "given", but choose it.
This isn't the orderly transmission of a denominational tradition from one generation to the next.
It's the wonderfully dis-orderly creation of tradition by a generation that has no clear memory of a shared origin but a strong sense of belonging together through a shared vision.
This is post-denominationalism and it is part and parcel of the Uniting Church's life and ministry.
The Basis of Union had envisaged not a unit-ed church complete, packaged, distinct but a unit-ing church – provisional, a continual work in progress, "an interim way of being 'church' on the way to the end of denominationalism as a whole."
In 1977, the Uniting Church was formed by people from three strong denominational traditions agreeing to leave their denominations behind to be together.
And over the last 35 years the Uniting Church has continued to be formed and reformed by people from many nations, cultures and denominations learning "to forget who they are and remember whose they are."
Every five years, a National Church Life Survey is conducted throughout Australia.
This time, the Uniting Church took the opportunity to commission some survey questions of its own.
While the results are still being processed, a preliminary report has been produced in time for this Assembly.
One of the questions included in the NCLS preliminary report was this: Which of the following aspects do you most like about the Uniting Church as a denomination?
The list of options was fairly long.
It mentioned just about everything you could think of that we're involved in through our agencies.
But it turned out that the list was pretty much superfluous.
Of the 19 768 Uniting Church attenders who answered that question nearly 71 per cent indicated that the thing they liked most about the UCA as a denomination is its "inclusiveness of all types of people".
Just to compare, the next most commonly chosen option was "provision of community services", at just under 25 per cent.
No, the votes are in.
The message is clear.
The thing we like most about our church is its inclusiveness.
It turns out that our congregations know and like what lies deepest in their DNA as Christian communities and uppermost in the vision of the mission of God which the Uniting Church lives to participate in "that reconciliation and renewal which is the end in view for the whole creation".
It is the task of this 13th Assembly not to shore up a denominational identity, not to protect our brand, but to hear what the congregations we serve have said to us through the NCLS report and to lift our eyes to that horizon of "reconciliation and renewal … for the whole creation" as we attend to our work.
Photo : Newly installed President, Rev Prof Andrew Dutney, shows his sense of humour and good nature as he chairs the 13th Assembly meeting