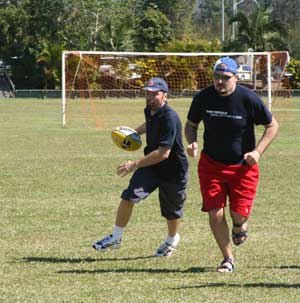 The Charles Farnsworthy Memorial Touch Football match was a highlight of the 25th Queensland Synod at Carrara in September.
Named for a mythological student of Trinity Theological College the match was a scene for lots of biffs and sweat and little real talent as Country vs. City teams clashed in their first annual Synod sports event.
Significant football ability was almost as hard to identify as the fabled Charles Farnsworthy whose name is often on college attendance records and, according to some students, has even submitted assignments.
The almost Rev Mick Brumpton said, "Once in a life time, we encounter someone who we know will influence us for the rest of our lives and even though I have never personally met Charles, I know I can speak on behalf of many UC folk when I say that Charles Farnsworthy is one such person.
"The legendary Charles Farnsworthy shall be known as one of the great unsung and unknown heroes of this century."
When referees Ray Nutley and Allan Hanson blew the final whistle the result was closer than a vote on assembly resolutions.
The match was a one all draw and City player Russell Day wondered if the game really was the winner.
Special mentions for awesome defense efforts were awarded to Tim Robinson (City) and Paul Clark (Country) and to Linda Hanson who smashed Andrew Ross in a sickening mid-field collision.
Exhausted players from both teams returned to the real game of the afternoon session.
Photo : Rev Andrew Gunton takes a pass