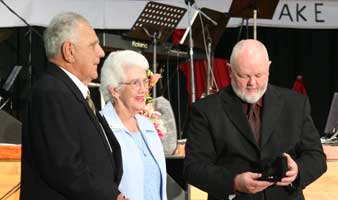 On the Sunday of the 25th Synod meeting the Moderator's Community Service Medal was awarded to five Uniting Church members who have exhibited outstanding community service over a number of years.
Recipients are involved in community service other than congregational work and are chosen on the basis of volunteer service.
Stan Emslie for his unstinting devotion to the people of Longreach.
Cedric Gowlett for outstanding volunteer service with Blue Care Caloundra, the Caloundra Uniting Church and the Rotary Club of Caloundra Pacific.
Elma and Arthur Store for over 20 years service as volunteers with Crossroads in Queensland.
Maisie Smith for her work in hospitals, the Country Women's Association, craft organisations and age care hostels.
Owen Bourne for 22 years of voluntary service with Lifeline Sunshine Coast
Photo : Elma and Arthur Store receive their Moderator's Medal