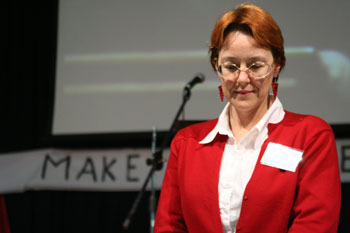 Former Moderator Rev Allan Kuchler brought a recommendation to the 25th Queensland Synod from the task group which was given the assignment of conducting a review of the General Secretary Rev Jenny Tymms in her role.
After extensive investigation, including the distribution of a questionnaire to people across the church, the task group recommended that Ms Tymms' appointment be extended in her placement for a further period of up to five years commencing from 1 February 2007.
The recommendation was affirmed by the Synod.
The report also encouraged Ms Tymms to monitor her workload and to use other staff to assist in the role. The Synod expressed its appreciation of Ms Tymms' work with a standing applause and the presentation of flowers.
Photo : Rev Jenny Tymms, General Secretary