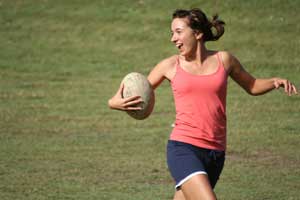 Members of the 26th Synod meeting at Alexandra Headland took a lunch break on Sunday to enter combat in the City vs. Country annual Charles Farnsworth Memorial Touch Football clash.
The Farnsworth Trophy was named for a mythological student of Trinity Theological College and a grudge match was expected after a strongly contested draw at the 25th Queensland Synod at Carrara in 2006.
After several comments about the playing surface resembling a car park, play began.
Opening forays into opposition territory were made and met and early on an evenly matched contest seemed to be on the cards.
Then, City's Rev Peter Lockhart ran, stepped and passed to ministerial candidate Viliame Mila who scored in the corner mere seconds later.
City's Monica Hackwood from Bayside Uniting made a scything midfield run and delivered a perfectly timed pass to Rev Lu Senituli to finish.
Hackwood also delivered the final pass for City's third try scored by Youth Worker Tim Griggs.
Country seemed doomed but fine tries either side of half time to Kent Benn and Rev Linda Hanson breathed fresh life into an absorbing contest.
City Youth Worker Russel Day tried hard but failed to capitalise on three scoring opportunities before final tries to Tim Griggs, Rev Andrew Gunton and Monica Hackwood sealed a convincing 6-2 victory to City.
Ray Nutley's performance as referee, while "Gommersalesqe" at times, rarely drew the ire of the crowd and ensured country remained in the clash as long as possible.
Player of the match Monica Hackwood received the well-deserved recognition of Journey and the praise of the whole synod for her outstanding performance.
Photo : City's Monica Hackwood runs for another winning try