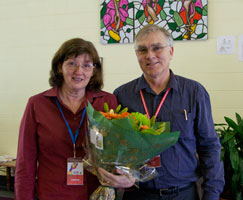 On the first day of business of the 29th Synod, Saturday 8 October 2011, immediate past Moderator, Rev Bruce Johnson, reflected on his three-year term and the lessons learnt along the way. He said three words that summed up his term as Moderator were debt, disaster and discipleship.
Mr Johnson began as Moderator in 2008 at the 27th Synod when the Uniting Church in Queensland was facing some serious financial issues.
"I was confronted with the news that the Synod had taken a serious hit on some major investments and had lost millions of dollars, so the decision was taken to no longer fund ministries of many Synod mission staff," he said. "My plans lay in tatters. What do I do? How do I exercise the ministry of pastoral leadership at a time like this?
"The Synod meeting in November 2008 was an astonishing experience," he said. "Rather than being angry and trying to find someone to blame for our financial losses, the Synod accepted the reality of the situation and begin asking, 'What is God asking of us at this time?'.
"We heard the voice of God through the voice of that Synod in 2008 and we have tried to encourage the whole Church to look seriously at our calling as a Uniting Church and how we are going to live out that calling as one Body in Christ."
This led to the Together on the way, enriching community journey.
"I believe that we have taken hold of the opportunity this severe debt situation has afforded us of looking long and hard at the way we live and relate as a whole Uniting Church in Queensland."
Mr Johnson said members of the 29th Synod will be challenged to make some major changes in the way we live and engage in mission together.
"We still have a long way to go; but I believe that we have been listening well to the voice of God through wisdom of the members of our church and I believe that we are up to the challenge."
Mr Johnson praised the work of congregation members and UnitingCare and Wesley Mission Brisbane staff and volunteers during his term and especially during times of disaster in Queensland over the last three years.
"What I saw as I travelled around was our Uniting Church really being the presence of Christ in the community. I began to ask myself, 'Why is it that we know how to be the Body of Christ in a crisis, but seem so powerless and timid when things are going well?'
"We need to take what we have learned in the disaster times and apply it to the rest of our experience as a church."
He said the future of the Church in Australia lies in discipleship.
"If the Church is to really impact its community it now requires every member, every follower of Jesus to stand up and make Christ known. The Basis of Union tells us that, as does the New Testament.
"We are all called to grow up into the fullness of the stature of Jesus Christ. We are all called to live faithfully as disciples of Christ.
"We don't grow accidently. We don't grow in isolation. We must link arms as individuals, as congregations, our UnitingCare staff and clients. We must stand and live together if we are to be the powerful presence of the Body of Christ."
Mr Johnson thanked all those who has accompanied him on his journey during the past three years including fellow Church leaders in other denominations and parts of the Uniting Church and those who welcomed him on his travels throughout Queensland. He also thanked his wife, Heather, and family, former General Secretary, Rev Douglas Jones, and current General Secretary, Dr Shirley Coulson, Director of Finance and Property Services, Robert Packer, and the staff of the Synod office.
"I look back over the past three years with a degree of disappointment that I have not been able to do all the things that I had hoped to achieve.
"I ask you to forgive the times I have failed you as a Church or you as individuals.
"Thanks for trusting me to serve in the role as Moderator and I will continue to give myself to Christ's mission through this exciting community we call The Uniting Church in Queensland.
Moderator, Rev Kaye Ronalds, moved a minute of appreciation for the work, dedication and faith of past Moderator, Rev Bruce Johnson.
"Bruce is a person who engages with people and with ideas," said Ms Ronalds. "The Synod has been nourished by his writings as he reflected on his encounters with people and with the books he has been reading.
"Bruce is fired by a passion for Christ who calls, directs and sustains us. He has sought to gather young people together for theological discussion and attended NCYC as a means of connecting with and supporting the many youth and young adults in Queensland who are part of the church.
"It has not been an easy season in the life of the Church. We were deeply concerned when we heard that he required heart surgery and we were thankful for the skilful people at the Wesley Hospital who were able to give him a reconstructed heart for his work and his life.
"Bruce, we thank you for your ministry of leadership which you have exercised with courage and compassion. We want to record our deep gratitude to your wife, Heather, for giving you understanding and support as she has partnered with you in this journey."
In response to this and the Moderator's message at her induction on 7 October, Heather and Bruce Johnson presented Ms Ronalds with a book called Are we there yet?
Mr Johnson will now move on to become the minister with St Andrew's Uniting Church in Brisbane's CBD.
Photo : Heather and Bruce Johnson. Photo by Osker Lau