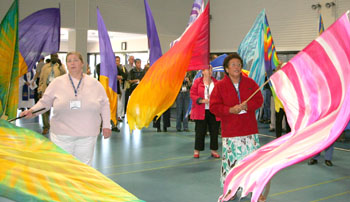 Jubilant pilgrims from the Uniting Church in Australia waved coloured flags at the beginning of a service of celebration at Unity College in Caloundra.
Members and visitors of the 30th Synod enjoyed a morning of discipleship and song.
There were a number of milestones that were recognised and celebrated.
Moderator Kaye Ronalds commented on National Sorry Day.
"Today is a day we recognise the First People of this land, the land that has been their home for many generations.
"The God in community invites us to express our sorrow and seek reconciliation so that the whole community can be restored."
Ministers who have been ordained since the 29th Synod were then celebrated, as well as tributes to those who have recently retired.
Recent Retiree George Woodford shared his reflection on his retirement and thanked his family for their ongoing support during his ministry.
"We need to remember not to limit God.
"I need to know that even in retirement God is still calling me and I can't limit him."
Tributes were also paid to ministers and pastors who have died since the 29th Synod.
In the prayer of thanksgiving, past Moderator Bruce Johnson also gave thanks for family members and colleagues who have partook in the seasons of ministry and discipleship.
"We acknowledge that sometimes families have had to make significant sacrifices for the life of the church. We can all recall the hard patches of that particular journey.
"The sandy patches when we've become bogged down and the firm straight paths that we can look back with humble satisfaction" he recalled.
UnitingCare Queensland CEO Anne Cross said there was a record of 44 nominations for the Moderator's Community Service Awards this year from which 11 recipients were selected. Four people were in attendance to receive their Moderator's Community Service Medals.
"At each Synod we take the opportunity to do this," she said. "We ask for nominations that reflect the commitment behind UnitingCare Queensland's mission statement.
"As part of the Uniting Church, the mission of UnitingCare Queensland is to improve the health and wellbeing of individuals, families and communities as we reach out to people in need, speak out for fairness and justice and care with compassion, innovation and wisdom" Ms Cross said.
As the disciples parted Ms Ronalds encouraged attendees to "love God's world, bring friendship into our work and courage into our politics".
Photo : Worshippers wave banners during service of celebration. Photo: Holly Jewell