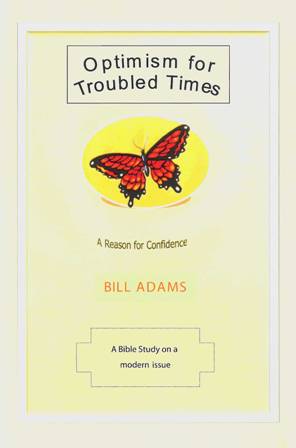 This thought-provoking 88 page book is a gem for us all! A bible study on a modern issue, it is presented in two parts:
1. Optimism from the Words of Jesus
2. Going Deeper-Studies with St. Paul
However there are also many references to O.T. passages. Each chapter ends with 6 reflective questions making this a significant resource for individual or group study.
Using the Beatitudes to show Jesus' teaching on this subject, in Part 1 Dr Adams has outlined a positive way to approach life, in fact to choose optimism. The Scriptures point us to the fact that even when we go through troubled times there is "a long term predictability about the way this world works." Through the book he weaves anecdotes of his personal journey and stories of our time which ground his thoughts to touch our own lives. He quotes an anonymous person as saying, "You can't choose your circumstances but you can always choose what your response to the circumstances will be."
In Part 2 the struggles of Paul and his approach to them is explored. This resource brings Paul's struggles and attitude right to the twenty-first century. He had difficult relationships with many in the church but continually made strong statements of optimistic discipleship. Surely this is a wake-up call for us!
Above all Dr Adams encourages us to look through the lens of faith at ourselves and be comfortable, to know who we are because of Jesus. This gives us optimism for troubled times.
I would like to see the book published using a different font as I found it difficult to read because of uneven spaces. However this is a booklet for us all.
The RRP is $9, or $10 to include postage. Contact: Bill Adams, 15 Coolaroo Cres, Jindalee, Qld, 4074, or email bpadams@optusnet.com.au.
Reviewed by Barbara Bailey