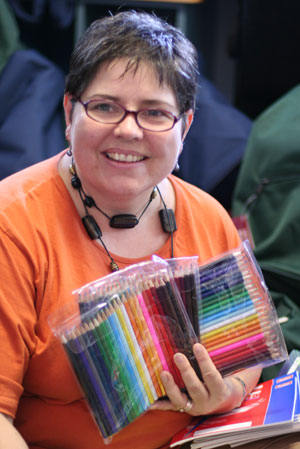 As the School Packs for the Solomons project gains momentum, the goal of filling 800-1000 backpacks is drawing close.
"We have been overwhelmed by the response," said project coordinator Heather den Houting.
"This project appears to have touched a nerve in the church and community, and people are responding above and beyond all expectations.
"The stories we are hearing about people who are receiving unexpected help and assistance from shops, and those churches who are having special services to bless the packs are deeply moving, and reflect a real sense of community.
"What has also astounded us is the number of donations we have received. Because we have no doubt we will achieve the targeted number of backpacks required, with the donated funds we are planning to buy class sets of books, chalk and duplicating paper for the teachers."
However, the number of backpacks that are coming in has overwhelmed the staff, who did not expect such an instantaneous and enormous response.
"We are currently calling out for volunteers who would be able to help us sort and pack backpacks into boxes ready for shipment to the Solomons.
"If you or your youth group could spend any time in assisting with this it would really help us get the backpacks ready for shipment."
If you can help over the next few weeks, please contact Heather den Houting on 33779805, or email heatherdh@uccentre.ucaqld.com.au.
Photo : Heather den Houting sorts piles of coloured pencils ready for the backpacks. Photo by Mardi Lumsden