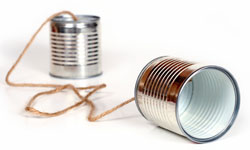 HISTORY BOOKS are full of inspired people who have shaped our world. Explorers, inventors, scientists, artists, theologians and so many others have spent countless hours growing the seeds of ideas into tangible realities. Even today the way we communicate, socialise, even the food we eat is evolving. This is not necessarily always a good thing, but one thing is for sure, it is unstoppable.
The Australian Government's Department of Innovation, Industry, Science and Research strives to "encourage the sustainable growth of Australian industries by developing a national innovation system that drives knowledge creation, cutting edge science and research, international competitiveness and greater productivity".
In September Innovation Minister, the Hon Kim Carr, told The Australian Financial Review that Australia is facing a historic shift "the like of which we have not seen in two generations".
"We need to change the way we do business by putting innovation at the heart of every firm," he said.
But is the church getting left behind? According to the National Church Life Survey (NCLS), frequent church attendance in Australia has declined from 44 per cent in 1950 to 17 per cent in 2007. NCLS Director, Ruth Powell, said, "Over the next few decades, many churches will face the loss of a sector of committed and loyal attenders who carry knowledge and experience."
She said the implications of this were far-reaching and churches needed to prepare for a shift in constituency.
"There are too many churches that are losing touch with those beyond church life or with a new generation of church attenders.
"While the Christian message remains unchanged, an openness to change and a spirit of innovation are part of what is needed to reverse these trends."
Fresh Expressions and Evangelism Officer for the Uniting Church, South Australia, Rev Ruthmary Bond, said as Australia becomes less of a Christian country, the church needed to look outside the box of conventional church.
"Our society has changed and we are now in a situation where people don't go to church as a matter of course," she said. "People are looking to explore faith, they may acknowledge that there is a God but they have no concept of that God being a God of love and many only comprehend Jesus as a good guy like Ghandi.
"Changing the way we do church to be inclusive to those people in our community simply opens the door for faith exploration. How we do church is not important. What is important is that we are following the commands of Jesus and worshiping God."