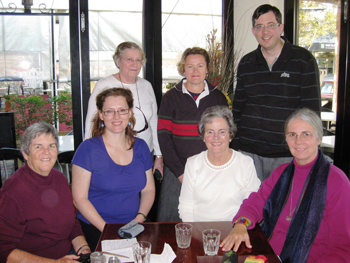 THE YEAR'S Mental Health Week is 10-16 October and the theme is Be active, Get connected, Stay involved.
Mental Health Week begins with World Mental Health Day on 10 October and includes Stress Less Day on 13 October.
A Nouwen Network's Jane Frazer Cosgrove said Mental Health Week was an opportunity for churches to promote mental health awareness in their communities and help reduce the stigma of mental illness.
"Church people are not immune from mental illness such as depression, anxiety, eating disorders, schizophrenia," she said. "Many suffer alone with little support from their church."
A Nouwen Network is a group of people with a community-based approach to support those whose lives are affected by mental health concerns and is supported by the Lifeline Community Care chaplains.
Visit http://www.mentalhealth.org.au for resources or for information about A Nouwen Network contact Jane Frazer Cosgrove on 041 6649 474 or nouwen-network@optusnet.com.au
Photo : A Nouwen Network members prepare for Mental Health Week