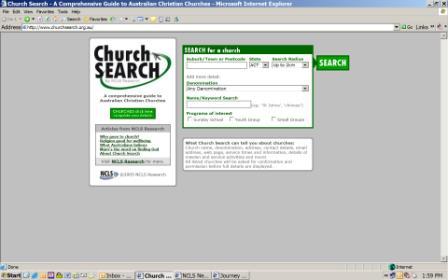 Church shopping has really come of age with the introduction of the National Church Life Survey's new free Internet service, Church Search, a comprehensive guide to Australian churches.
Project Manager Dr Ruth Powell said "NCLS Research is in the unique position of having perhaps the best list of Australian churches that exists. We are the caretakers of a list of over 10 000 churches in 20 denominations. By providing this service, we hope that it will help more people find their way into churches."
Church Search will be useful for people looking for a church for the first time, in a new place, or while on holidays. "Church leaders may also use the service to help people move – making recommendations or introducing people to a new church family." Ruth added.
Web developer for NCLS Church Search Phil Harding said, "Other church directories I have seen are pretty limited in the information they provide. We are trying to let the personality of each church come through".
Phil hopes that Church Search will contribute to a sense of a unified presence for Australian churches. "They will be presented alongside each other, and yet their diversity is preserved. This is a chance for non church-goers to find out about all the good things that their local churches are doing such as youth programs and community services."
You can visit the Church Search Website at www.churchsearch.org.au to test it out or see if your church's information is current.
Churches can contact NCLS Research to correct their details at info@churchsearch.org.au.
Photo : Introducing Church Search