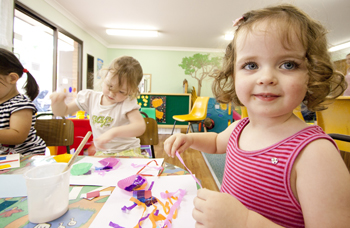 IN LATE February Broadwater Road Uniting Church, in Mansfield, Brisbane, celebrated the 20th anniversary of their Parent
Support Group.
The anniversary celebration on 27 February also honoured founder, Amy Wruck, who retired from the playgroup at the age of 80 after 15 years.
"I started the group because I felt that we were an inwardlooking church and we needed to do something within the community and that's where I believed God led me."
"I'm rather overwhelmed at the rate that it [the playgroup] grew and it's still growing.
I'm absolutely delighted," said Ms Wruck.
The Parent Support Group runs from Tuesdays through to Fridays, with mums, dads and grandparents bringing children.
Friday coordinator Noela Weyer said 120 families and over 200 children from both the community and the congregation attended the playgroup in 2010.
With fees kept to a minimum, the playgroup is very popular within the local community.
"Parenting can be very lonely.
Our passion is just to support young parents in their parenting role," she said.
"The importance of this group is the social aspect.
"One mum said to me that the caring the people in the group show has also gone through to the mums and they now care for one another as well.
"We see the playgroup as a very valuable outreach within the local community."
The group provides morning tea for parents, as well as indoor and outdoor activities for children, parenting courses and even assists parents in crisis situations.
All of the volunteers who help with the playgroup are from the Broadwater Road congregation.
Photo : Children enjoy the Parent Support Group. Photo by Osker Lau