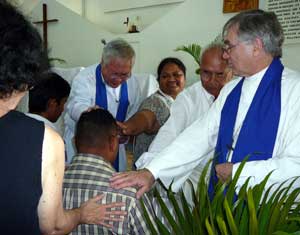 ON ONE SUNDAY in April, 65 people from 15 different nationalities made a public affirmation of faith at Logan Central Multicultural Uniting Church.
The confirmation service, attended by around 400 people, was led by young people in the congregation, and included hymns sung in six different languages simultaneously. Minister Rev Dr Apichart Branjerdporn said the church overflowed with people and joy at the celebrations.
"There were more people outside the church than in the church because the building was not big enough," Dr Branjerdporn laughed.
He explained the congregation had around 100 members from the Burmese community, most of whom were aged under 30 years.
"There's a real sense of joy and blessing that comes from being in a special relationship with groups of refugees settling in the area," he said.
Moderator Rev Bruce Johnson assisted in the confirmation service and was also impressed by the commitment of the Logan Central Multicultural congregation to creating a global community under one roof.
"It's exciting to see a community attempting to be truly multicultural," said Mr Johnson. "It's about respecting each other, worshipping with each other, and living with each other."
Photo : Judy Hunter Robinson, Apichart Branjerdporn, Vera Daitau, Iuma Apelu, and Bruce Johnson lay hands on Tupouniua Tauelangi during the confirmation service. Photos by Gwenda Brandjeporn