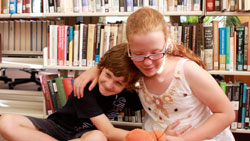 Jasmin: LOVE MEANS God and love means if you care about someone, say your neighbours, you care about how you love them.
If you love someone, like your mum and dad or grandparents or carer, you always say, "I love you".
When you love someone you always take care of them.
God loves me and we need to take care of God every single day.
Love means we care about how confident we are to serve God.
Isaak: SEEING MY friends and family because we don't get to see our cousins very much because they are in Adelaide, Longreach and Ipswich.
Christmas means celebrating Jesus' birthday.
Sometimes we go to friends' houses and have cake to celebrate Jesus' birthday. Jesus' birthday reminds us that God loves us and cares for us.
Photo : Isaak and Jasmin Cox. Photo by Phillip Johnson