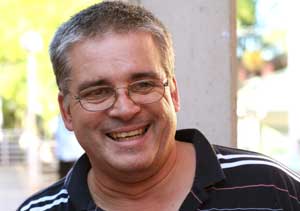 What does the resurrection mean to me? In a word it means hope. I don't mean hope as in "I hope it will be fine (whoops rain) tomorrow".
"I hope it will be nice" has for me as much clout as a piece of soggy asparagus.
If the resurrection promise is to be trusted it has to affect more than what happens later. Let's face it if you can't trust Jesus on this, why trust him on anything he promises?
Resurrection hope answers mortal despair which gives me courage to live in the face of my own mortality.
While very young I was confronted with pointlessness. So much of life seemed temporary and fleeting. "Why bother doing anything if it won't last? Why bother enduring hardship or the difficult? Why risk career, family or even my life for anything?"
If now is all I have, then I can forget the pious platitudes about helping others and being altruistic.
If this is all I have then why shouldn't I make my life count for all I want and enjoy? Nothing else is logical.
So without the resurrection promise I can see no reason why I should not be a miserable selfish hedonist in a secure well paying job that leaves time to enjoy life's pleasures.
And if bad things happen to someone else – well I'd be glad it wasn't me.
But that isn't the case. There is more to life and living now because I have hope for the future.
Rather than fearfully consuming a life too short and fleeting, resurrection gives me hope to be able to live life now to the full.
With that hope I can face each new day to love, to care, to confront, to weep with the grieving and laugh with the rejoicing.
Rob Brennan is minister at Banora Point just over the NSW border
Photo : Rob Brennan