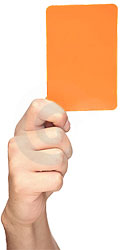 TWAS THE night before Synod and all through the house everyone wanted to hear how the consensus model of voting
worked.
After a fascinating day at Pilgrim Learning Community's REFUEL: School of theology, at Caloundra Uniting Church, I spent the night with family who have never been part of the Uniting Church.
Perplexed by what I was about to embark on, they were fascinated to hear that if the whole voting group (in this case over 340 people) didn't agree on something the voices of those who disagreed were heard and further thought and discussion
is required until all members were happy to proceed.
It really is a remarkable feat and, when the consensus model works well, it can be quite moving to witness a sea of orange cards held high to offer support for a proposal.
This was evident at the 29th Synod on multiple occasions, most memorably when the members endorsed a proposal to make an apology to former residents of church owned orphanages, particularly in Aurukun, far north Queensland, who are still living with the pain of trauma from that time.
There was a hush in the room as 340 people held their orange cards high.
The support of the proposal regarding tuberculosis clinics was a proud moment where the church looked beyond its
immediate business to make a difference in the world around us.
The Synod meeting was centred around the 2020 Vision (the Together on the way, enriching community journey) and this Synod meeting felt different to others I have attended.
There was a sense of prayfulness, peace, and a focus to continue to discern God's will for the Uniting Church
in Queensland by heading on the journey to enrich our communities together.
It was a pleasure to have the interaction of the FUN (For Under Nineteens) Synod members who brought insight into the meeting and creativity into worship.
We posted stories, photo galleries, audio files, tweeted and facebooked as many updates as possible to make sure people felt part of the meeting, even if they couldn't be there.
An edition of Journey will never capture every moment of a Synod meeting, but I hope in these pages you fi nd the essence
of what is possible when such a varied group of people share a common goal.
It makes me wish the consensus model was used on the floor of our parliament instead of the insult shouting matches we currently see.
Imagine the changes in Australian society if our parliament was filled with listening and discerning.
Maybe we could teach them a thing or two?