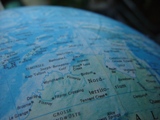 When the Texas diocese of Forth Worth broke away from the US Episcopal (Anglican) Church, its bishop said his church was "taking a stand for the historic faith and practice of the Bible" and against the "continuing erosion of that faith".
Katharine Jefferts Schori, the presiding bishop of the Episcopal Church, also referred to the Bible in response to the move and said in a statement the wider church "grieves the departures of a number of persons from the Diocese of Fort Worth. We remind those former Episcopalians that the door is open if they wish to return."
Bihsop Jefferts said, "The Gospel work to which Jesus calls us demands the best efforts of faithful people from many theological and social perspectives, and the Episcopal Church will continue to welcome that diversity."
The 15 November decision by the Episcopal Diocese of Fort Worth to join the Anglican Province of the Southern Cone in South America is helping redefine "the right wing of the church", the bishop of the diocese in Texas, Jack Iker, said at a press conference after the move.
The decision made Fort Worth the fourth U.S. diocese over the past year to sever ties with the Episcopal Church over opposition to the U.S. denomination's stance on sexual and social issues, including the 2003 consecration of V. Gene Robinson, an openly gay man, as the bishop of the state of New Hampshire.
"This diocese stands for orthodox Christianity," Iker said, "and we are increasingly at odds with the revisionist practices and teachings of the official leadership of the Episcopal Church. The Episcopal Church we once knew no longer exists."
Iker said the Texas diocese, which has 56 congregations, hoped other U.S. dioceses would consider leaving the Episcopal Church, which is the US arm of the worldwide Anglican Communion.
Since December 2007, the dioceses of San Joaquin, California; Pittsburgh, Pennsylvania, and, earlier this month, Quincy, Illinois, have left the Episcopal Church and realigned with the Anglican Province of the Southern Cone, based in Argentina.
Although nearly 80 percent of the Fort Worth diocese voted to leave the Episcopal Church, five congregations indicated a desire to remain.
(c) Ecumenical News International
Photo : WORLD NEWS