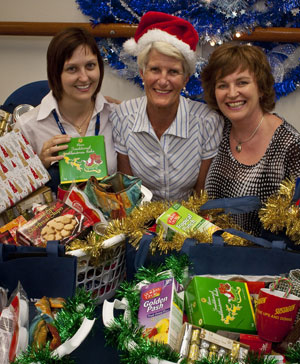 Hampers brimming with Christmas treats are being wrapped this week to help brighten the lives of 12 elderly people living on the Gold Coast.
Blue Care Gold Coast Allied Health Manager Sue McGuire said Christmas could be a lonely time of year for some, which is why staff at Blue Care's Elanora and Southport offices have teamed up with local businesses to create the Christmas hampers.
"It is hoped the hampers will bring some cheer and goodwill for some of our clients who are alone at Christmas or may have limited family support," she said.
"Our own staff donated non-perishable food items to start the hampers and we invited local businesses to be part of this heart-warming project.
"With their help we can create hampers overflowing with special treats for clients, who often have limited resources to prepare, cook and celebrate occasions like Christmas."
The following businesses are directly helping to make life much more enjoyable for people in need on the Gold Coast at Christmas:
Nestle Nutrition: Nestle products
Coles Runaway Bay: Gift Voucher
Woolworths Runaway Bay: Gift Voucher
Woolworths Robina: Gift Voucher
Woolworths Oasis, Broadbeach: Gift Voucher
Lions Club Palm Beach: Christmas cakes
Sai Organisation: Toiletries
Ms McGuire said Blue Care staff were delivering the hampers this week.
"Staff have truly enjoyed being involved in the gift of giving to others and discussions are already underway to repeat the project again next year," she said.
Blue Care is a not-for-profit organisation providing assistance and support to frail aged and younger disabled clients living in the community. Gold Coast Allied Health currently supports more than 400 clients in the Gold Coast area.
Photo : From left: Blue Care Gold Coast Allied Health is Southport Dietician Donna Hickling, Southport Allied Health Assistant Gail Griffiths and Elanora Administration Officer Ann Langley. Photo courtesy of Blue Care