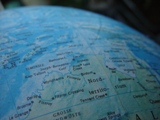 Thousands of voices, including choirs, congregations, chaplains and soldiers, are to be blended together in one giant, online hymn sing to help support the Anglican church's ministry in Canada's remote north.
The Amazing Grace project asked Canadian Anglicans to video themselves singing the iconic 18th-century hymn, and to forward the recordings to the church's national office in Toronto. Here, the anticipated hundreds of renditions will be edited into one video, which will be available online by Christmas.
The initiative was intended as a unity building exercise but also included a fundraising component. Each singer was encouraged to donate 2 Canadian dollars (US$2) to support youth ministry and clergy training in Canada's northern territories. The majority of clergy in these areas are non-stipendiary, or unpaid; the money raised will allow clergy to travel from their remote communities to receive training.
Some groups raised more money than expected; at least one parish pledged its entire Sunday offerings to the project. Most of the videos were recorded on 23 November, though other groups recorded their versions earlier.
By 26 November, more than 200 parishes and church groups had uploaded their videos to the national church website. Brian Bukowski, Web site manager, said organizers were expecting to receive 500 videos either electronically or by regular mail. There are about 2800 Anglican congregations in Canada.
"I've heard some people say, 'I'm so tired of that hymn'," said Fiona Brownlee, communications co-ordinator of the Council of the North, a grouping of financially supported Anglican Canadian dioceses. "I have to remind them that it was one of the first hymns that got translated into indigenous languages in Canada. It also has resonance for Anglicans from other ethnic backgrounds, like Chinese and Vietnamese."
Videos have also arrived from abroad. Canadian bishops led their colleagues in a few verses, while attending July's international Lambeth Conference of Anglican bishops, in England. Recordings have also come from Canadian soldiers and chaplains in Kandahar, Afghanistan.
Brownlee believes that Amazing Grace, penned by John Newton, a former slave trader, who became an Anglican priest, resonates with people, because of its theme of redemption. "We've all had moments of amazing grace in our lives, and we can all speak to it," she said.
(c) Ecumenical News International
Photo : WORLD NEWS