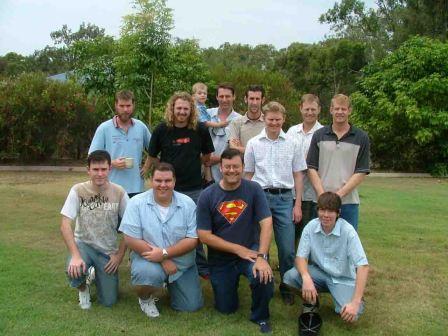 A Central Queensland group of about 15 "blokes" meet over an October weekend to drink coke, play cards and eat baked beans in good ol' fashioned harmless christian fellowship.
Rev Andrew (Gunto) Gunton lead the group in discussions about the changing role of the christian Aussie bloke.
Meeting at a beach house in Zilzie (near Yeppoon) the blokes had a great time sharing yarns and tall stories, watching some motor sport (Bathurst), swimming and generally mucking about.
"Blokes Camp" has become an annual event in the Central Queensland calendar with this the 4th time the menfolk have gathered.
Blokes camp coordinator Wayne Davidson said, "We intend to make it bigger and better in 2006 but keep to the same laid back style."
For more information about "Blokes Camp" contact Wayne HERE.
Photo : The CQ "blokes" strut their stuff