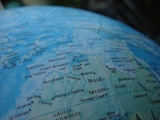 Church of England has threatened the Sony Corporation with legal action unless it withdraws a video game set in Manchester Cathedral.
"During the game, players are asked to assume the role of an army sergeant and win a battle in the cathedral. The video footage of the cathedral battle on 'You Tube' has shocked and dismayed us beyond words, and can only be described as virtual desecration," the cathedral's dean, the Rev. Rogers Govender, told journalists on 11 June.
Sony has said in a statement that "Resistance: Fall of Man" is a fantasy science fiction game and not based on reality.
Govender said, however, "For a global manufacturer to re-create the interior of any religious building, such as a mosque, synagogue or, in this case, a cathedral, with photo-realistic quality, and then encourage young people to have gun battles in the building is beyond belief and, in our view, highly irresponsible."
The dean described Manchester as being in the grip of gun crime. In recent days, three young people have been badly injured in the streets of the city, in the northwest of England.
Govender said the church is seeking the advice of lawyers, and has asked Sony to e-mail or write back immediately so that a meeting can be arranged over the next few days.
The cathedral's sub-dean, the Rev. Paul Denby, told Ecumenical News International, "We are demanding that Sony withdraws the game and makes a substantial donation allowing our Education Department to work more effectively with those aged between 18 and 30, and other agencies with whom we work, in resisting the culture of gun crime and other forms of violence in our society."
David Wilson, a spokesperson for Sony, described the game as "entertainment". The Times newspaper quoted Wilson as saying, "It is not based on reality at all. Throughout the process we have sought permission where necessary."
(c) Ecumenical News International
Photo : WORLD NEWS