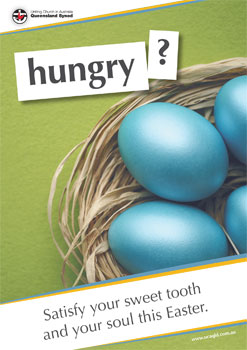 IT MAY feel like we just celebrated Christmas but it is time to start preparations for Easter.
This year the Synod Communication Services Unit will provide Easter postcards for congregations to invite members of their community to their Easter events and services.
The 2011 Easter postcard theme is: "Hungry? Satisfy your sweet tooth and your soul this Easter."
The back of the card will have a space for congregations to put their service and event times.
Communication Services Unit manager, Mardi Lumsden, said this campaign once again invites people to connect or reconnect with their local Uniting Church.
"So many of our churches were a place of refuge during the recent floods. It would be great if these cards helped congregations keep in touch with people they supported and those who helped," she said.
This partnership with congregations produces high-quality, low-cost resources for Easter outreach in local communities. Once again churches from all over Australia will be using the Queensland Synod's Easter postcards.
Congregations can also sign up to a special section on the synod website (www.ucaqld.com.au) which will list Easter service times around the state and provide information about church locations.
Congregations that do not participate in the Easter campaign can still have their information added to this page.
A starter pack with 3000 postcards and 10 full colour A3 posters is $165 (includes packing and postage to your congregation). Additional postcards are available at $130 for 3000 (minimum lot) and posters at $10 for packs of 10.
Online registrations for the Easter campaign are open now and close on Monday 21 February. Final approval of proofs will be needed by Friday 25 February.
For more information or to register visit www.ucaqld.com.au/Easter2011