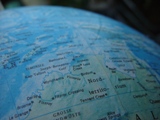 Some Anglican bishops in Kenya say a planned boycott for this year's Lambeth Conference, a once-a-decade worldwide Anglican church meeting mid-year, would be unnecessary, if gay US bishop V. Gene Robinson and his backers will not be attending.
But others indicated they are not reconsidering the boycott as the US Episcopal Church has not repented for the blessing of same-sex unions.
"If we are assured Gene Robinson and others will not be attending, then there is no reason why the Kenya church will not attend," Anglican Bishop Julius Kalu of Mombasa told Ecumenical News International on 12 March.
Leaders of the US Episcopal Church heard on 10 March that Robinson will not be invited to attend the Lambeth Conference in Canterbury, England. Robinson has been quoted in the media as saying he would, however, be an observer at the meeting.
The US church consecrated Robinson in 2003 as bishop of New Hampshire and he was the first bishop known to be in an openly gay relationship. That triggered a deep division and threatened a schism in the 77 million-member worldwide Anglican Communion, which has also been grappling with scriptural interpretations about the ordination of women and the blessing of same-sex relationships.
Kalu said the Kenyan church was still opposed to the consecration of homosexual people as bishops and also to the blessing of same-sex unions. He said the bishops would want to meet to discuss the challenges and successes of the church, but not to engage on issues of human sexuality or same-sex unions.
But Bishop Gideon Ireri of Mbeere said, "There has not been any repentance in the church over the deviation from the doctrine of creation." He said the US church has said it regretted the actions, but Ireri said to regret is one thing and to repent is another.
"They will not be sending Gene [Robinson], but there are still many people [Anglicans] who practice homosexuality. The distortion of creation is very deep in their hearts," Ireri said.
The bishop said there was a deliberate attempt by some Anglicans to change liturgy and prayers to support blessings of same-sex unions. "I don't think our position will change," Ireri said in an interview with ENI.
Bishops opposed to the gay ordinations have been planning an alternative conference, called the Global Anglican Future Conference, for June in Jerusalem. The meeting would take place six weeks before the Lambeth Conference.
Ecumenical News International
Photo : WORLD NEWS