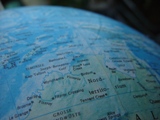 Gay rights advocates, disappointed by the passage of a measure to ban same-sex marriage in California that has deeply divided religious groups, are saying nationwide protests against the prohibition are a milestone in civil rights for gays and lesbians.
"What I find most interesting about these protests is the large percentage of straight allies who solidly back gay marriage, people without any agenda," the Rev. Steven Kindle, head of Clergy United, which supports rights for homosexuals, told Ecumenical News International.
Still, churches and religious groups are found on both sides of the debate about the banning of same-sex marriage, a measure known as "Proposition 8". It was passed by 52.2 percent to 47.8 percent in a popular vote held on 4 November, the same day as the U.S. presidential election, and it defines marriage as being between one man and one woman.
Demonstrators on 15 November gathered in an estimated 300 cities across the United States to protest against the ban. The protests came together largely through grassroots efforts and use of the Internet, cell phone text messages, mass emails and video posts on Web pages.
The Church of Jesus Christ of Latter Day Saints, often referred to as the Mormon Church, remains consistent in calling for "the divine institution of marriage". Other religious organizations supporting a ban on same-sex marriage include the Roman Catholic Church, the American Family Association, Focus on the Family and the National Organization for Marriage.
Still, the Rev. Judith Jones, president of the California Council of Churches, which opposed the ban, described the measure as "a dangerous precedent". A Disciples of Christ pastor, Jones told ENI, "Regardless of your views on same-sex marriage, you do not have the right to legislate individuals' lives in this way."
There have been more than 18 000 same-sex marriages in California since May 2008 when the Supreme Court in the state recognised gay marriage as a fundamental right.
Leo Godzich, president of the National Association for Marriage Enhancement, a marriage education organization based in Arizona, said before the vote that the decision had implications that went beyond California.
"The world is watching this," Godzich was quoted as saying by the Christian Science Monitor. "We have gained a worldwide reputation for exporting social issues to other nations. So, many are watching to see whether we will stand up for what has been a traditional foundation for society."
Religious organizations opposing the ban on same-sex marriage include all six Episcopal (Anglican) dioceses in California, the Board of Rabbis of Southern California, the American Jewish Committee and the Anti-Defamation League.
"Mingled in the crowds are straight clergy, moms and dads of straight children, and heterosexuals from all walks of life," Clergy United's Kindle, said of the protestors who took to the streets in November. "For most, the issue is one of justice and fairness." [
(c) Ecumenical News International
Photo : WORLD NEWS