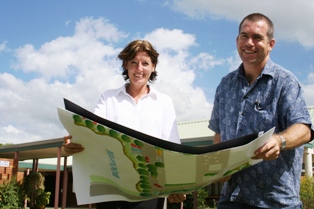 Fassifern Blue Care and Uniting Church Centre will host their $30,000 grand "vergola" opening on May 6.
Uniting Church Minister Rev James Matthews said the community is invited to join in celebrating the completion of a project which began as a dream nearly 20 years ago.
"It was Esther England who generously bequeathed sufficient funds to Boonah Blue Care and Uniting Church congregation that we were able to commission an all weather outdoor entertainment activities area," he said.
This "vergola" area will be enjoyed by Blue Care clients, congregation members, playgroup children and visitors and will be used for fetes, fairs, concerts and Open Days.
Blue Care Fassifern Director of Nursing Janelle McClure said she hoped the day would be well attended.
"We would like to invite all who have been friends of the Uniting Church and Blue Care in the past, those involved with us in the present, and any interested members of the public to come, celebrate and enjoy our excellent facilities," she said.
The day will double as an Open Day for both Blue Care and the congregation, so as well as the formal proceedings, there will be a range of activities and displays, and people on-hand to answer questions.
A free sausage sizzle and afternoon tea will be held at 2pm.
There will also be historical accounts and pictorial record from periods of the past, and plans for future development. The plans were created by a group of Queensland University of Technology students.
They submitted plans for development of the facility and grounds in their elective "Gardens of inspiration and Caring".
Mr Matthews said the completion of this project was the product of the recent close working relationship between Blue Care and Boonah Uniting Church congregation.
"We urge you to come along and share with us the opening as we thank the many supporters who for numerous years have been making their time available to both facilities," he said.
For more information phone Blue Care Fassifern on 07 5463 2759.
Photo : Blue Care Fassifern Director of Nursing Janelle McClure and Boonah Uniting Church congregation's Reverend James Matthews look over some of the development plans that will be on display at the vergola opening.