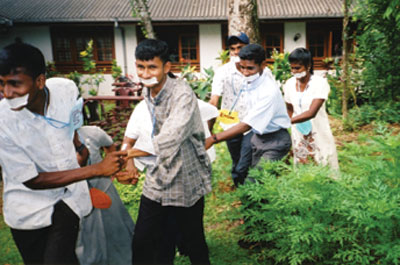 Peace building initiatives in Sri Lanka and Bali and leadership development for PNG, East Timor and Indigenous Australians are key projects to be supported by the Queensland Synod's annual Lent Appeal held in the weeks prior to Easter.
Appeal coordinator Bruce Mullan says the theme "Sharing the Hope" captures the aspiration of the projects to bring Christian hope to people who might otherwise not receive the support of the wider church.
"Sri Lanka has experienced three decades of racial and religious violence and Balinese society is in a fragile state with increased inter-faith tensions since the recent bombings," he said.
Skills development in carpentry, engineering, boat building and financial management will be provided for people in the Papuan Islands Region of Papua New Guinea, and key Aboriginal leaders will participate in the triennial National Assembly of the United Aboriginal and Islander Christian Congress to be held on the Sunshine Coast in 2006.
Eight young people from East Timor (one of the world's newest and poorest nations) will study law, community development and health care at the Methodist University in southern Brazil thanks to the 2006 appeal.
The common language of Portuguese, the official language of East Timor, will consolidate this investment in East Timor's future.
Ms Heather den Houting, Social Responsibility Advocate and International Mission Consultant, is enthusiastic about the projects selected for this year's Lent Appeal.
"In 2005 congregations gave over $60,000 in genuine Christian aid and our prayer is that our people will be just as generous in 2006," she said.
Contact your local Queensland congregation for Lent Appeal donation envelopes.
Photo : Young people in Sri Lanka participate in a trust-building activity as part of the peace-building program. Photo courtesy of Young Ambassadors for Peace