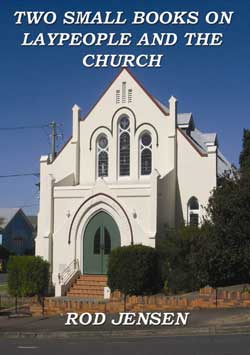 THE PUBLICATION Two Small Books on Lay People and the Church was always going to be controversial, and the controversy generated by the launch was no surprise to its author, Professor Emeritus Rod Jensen.
Kenmore Uniting Church Lay Minister Heather den Houting was uncompromising, describing herself as "angry, distressed, confused and irritated" by the book.
Ms den Houting said Dr Jensen's description of church was "profoundly limited", and claimed the book delivered the voice of the disappearing laity of the church through statistical analysis and personal anecdote.
"No philosophy and especially no theology required".
Moderator of the Queensland Synod Rev Dr David Pitman also described the book as difficult and painful reading.
"The first thing I had to do was switch off my clergy defence button," Dr Pitman said. "Regardless of whether we are right or wrong or just misguided at any particular point in time, those of us who are ordained into the specified ministries of the church have to learn that there is a time to speak and a time to be silent.
"The capacity to listen is critically important. Becoming defensive blocks our ears to the many voices we need to be hearing."
Along with the book launch Uniting Church member Dr Roderick Rogers introduced the Lay Forum and expressed his desire to see laypeople taking a progressive stance on the future of the Uniting Church.
Dr Rogers described the role of the Lay Forum as facilitating lively discussion within the Uniting Church and promoting the role of laypeople within that community. There was certainly "lively discussion" at the launch.
Another Lay Forum member Mr Reg Collard said modern biblical scholarship and 21st century world views are legitimate topics too rarely discussed in the pews, if at all.
"In the Lay Forum we are committed to future church and making it relevant to 21st century people, unafraid to ask questions and foster renewal within diversity," he said.
Professor Jensen was philosophical about the reaction.
"One indisputable truth seems to be obvious to all. We can't go on as we are," he said. "If this book stirs anyone to recognise the truth which is facing us in the churches and stirs anyone to make a difference, it has been well worth the time and effort.
"Whether this book is right or wrong, whether you see it as truth or heresy or see me as a nuisance is not important. If it challenges you to rethink the church model we have, it will have justified its existence."