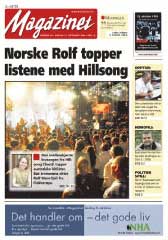 The editor of a Norwegian Christian magazine that published cartoons of the prophet Muhammad which have sparked worldwide protests, some violent, has apologised to Muslims for the journal's action in printing the caricatures.
"I am deeply sorry that you as Muslims have experienced that your religious feelings have been offended through what we have done," said Vebjorn Selbekk, the editor of Magazinet, at a press conference in Oslo on 10 February. "I have earlier stated publicly that I regret the publication."
The cartoons were first published in a Danish newspaper Jyllands-Posten in 2005 before being republished in January by Magazinet and then reprinted by other media mostly in Europe.
"It was never our attention to offend anyone," said Selbekk whose apology was praised as an act of courage by some bishops. "It is also correct to admit that I as editor did not fully understand how offensive the publication of Jyllands-Posten's drawings would be experienced."
Selbekk praised the Muslim community in Norway for what he said was its "dignified" response to the publication of the cartoons, saying he denounced right wing extremists for trying to exploit the situation.
"We need to take a strong stand against these developments," he said. "Now it is more important than ever that we all reject discrimination of people belonging to different religious or ethnic groups."
Meanwhile, the acting head of Norway's Lutheran bishops has also apologised for the publication in Norway of the cartoons.
Bishop Riksaasen Dahl of Tunsberg diocese, speaking to the daily Aftenposten newspaper on 10 February said that violent reactions to the cartoons had to be condemned. But the West also needed an increased understanding of the sacred, she noted.
"It is now a challenge for Church of Norway priests and preachers to strengthen our perception of what is holy," she said. The faithful needed to become more aware of the holiness of God and of churches as holy places, while comedians should realise that they may offend people with satirical comments on faith and religious life.
(c) Ecumenical News International