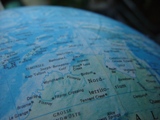 Roman Catholic religious orders in Poland have taken to advertising to try and stem a decline in vocations.
"The church has been advertising itself for two thousand years," Dariusz Kowalczyk, the head of the Jesuit order in Poland, was quoted as saying by the Gazeta Wyborcza newspaper. "Today, the adverts are more sophisticated and this isn't surprising; there's the Internet and colour printing, and it would a sin not to use them," he explained.
The newspaper showed a Warsaw church billboard depicting two monks on a country lane above the words "Join us!" Another advertisement, featuring a handsome, unshaven man in a clerical collar, proclaimed "Hard guy? No, a Jesuit."
Several orders were also using direct-mail adverts, Gazeta Wyborcza reported, with one closed female congregation offering a "passionate life in seclusion".
The Rev. Bartlomiej Krol, a priest who heads a new monastic Web site, www.zakon.pl, said orders such as the Franciscans and Dominicans now had specialists in "promotion and recruitment", who were also trained in "creating an order image".
The president of Poland's Conference of Female Superiors, Jolanta Olech, said Roman Catholic monks and nuns were keen to use "modern possibilities" to promote the contemplative life. "Since I don't go around the streets everyday, I haven't seen the latest billboards," she told Ecumenical News International at the end of May.
"But we all have our own Web sites and are very much open to new methods. It would be quite wrong to think we're somehow distrustful of modern technology," Olech said.
Priestly vocations doubled in Poland after the election of Pope John Paul II in 1978. However, the Catholic information agency KAI reported in April that recruitment to Poland's 57 male and 113 female orders had dropped by a third.
Olech said most orders now used computers and mobile telephones to communicate and promote their work. "But of course, the best advertising will always be our honest, ordered life," she said. "We have a problem with vocations now, and this won't be solved by posters and billboards."
(c) Ecumenical News International
Photo : WORLD NEWS