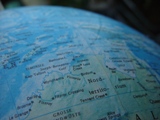 Outgoing British Prime Minister Tony Blair has met Pope Benedict XVI at the Vatican, fuelling speculation that the UK leader is to convert to Roman Catholicism when he leaves office this week.
"Blair, the conversion day", the Rome-based La Repubblica newspaper headlined one article ahead of the meeting. This speculated that the Pope and the prime minister would discuss "specific issues, such as baptism and Holy Communion".
An official Vatican statement issued after the two leaders' 23 June meeting, however, made no mention of a possible conversion. Instead, it said there had been a "frank discussion" between Blair and Pope Benedict about the situation in the Middle East and the future of the European Union.
Such a statement, reported the Milan-based Corriere della Sera newspaper, was a diplomatic way of referring to a disagreement between the two men. The Holy See opposed the US-led military action against Iraq, whereas Britain supported it. Other items of discord, according to the newspaper, included a British law allowing homosexual couples to adopt children.
In London, The Times newspaper reported, "The Pope rebukes Blair over Iraq war."
Addressing pilgrims in Rome the day after his meeting with Blair, Pope Benedict described John the Baptist as "a witness to the truth without compromise. He denounced the transgression of the commandments of God, even when the powerful were its protagonists." In a message to English-speaking pilgrims, the pontiff also referred to the need for "true conversion and growth in holiness".
Commentators speculated that Pope Benedict was referring to his meeting with Tony Blair.
Blair is an Anglican but is married to a Catholic, and their four children have been brought up in the Catholic faith. Before he became prime minister in 1997, Blair was reported to take Holy Communion in a Catholic church with his family, before being asked to desist by the then leader of the Catholic Church in England and Wales, Cardinal Basil Hume.
According to Corriere della Sera, Blair's conversion has been "postponed". Within the Vatican, it reported, "the public adhesion of Blair to the Catholic faith is considered probable, but not imminent."
(c) Ecumenical News International
Photo : WORLD NEWS