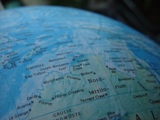 Pope Benedict XVI has joined German Christians of other denominations for a prayer service at Regensburg cathedral in Bavaria where he urged Christians not to hide their witness to God in a multi-religious age.
"We know who God is through Jesus Christ," said Pope Benedict at the service on 12 September during a six-day visit to his native Bavaria in southern Germany. Protestant and Orthodox clergy were present when he said, "In an age of multi-religious encounters we may be slightly tempted to play down this central affirmation or even to hide it. But then we helping neither the encounter nor the dialogue."
Benedict spoke of his hopes for renewed dialogue between the Roman Catholic and Orthodox churches. He also referred to a 1999 agreement between Catholics and Lutherans on the doctrine of justification, an issue that divided the papacy and the followers of Martin Luther at the time of the 16th-century Protestant Reformation.
"I am particularly pleased that in the meantime the World Methodist Council has also joined this consensus," said the Pope, who after his election in 2005 spoke of his commitment to promote Christian unity. In the common witness to Christ "there is no division between us," said Benedict. "We pray that this common basis may become ever stronger".
Still, Benedict did not refer to a call by German Protestant leaders in advance of his visit to find a way of dealing with the problem of mixed Protestant-Catholic marriages where couples are unable to receive Communion together. Non-Catholics are barred from receiving Catholic Communion in most circumstances.
Bavaria's Lutheran bishop, Johannes Friedrich, told the 1100 worshippers at the Regensburg cathedral that the unity of the Church was reflected not only in a common witness to Jesus Christ but also through the diversity and multiplicity of churches, the German Protestant news agency epd reported.
German Protestant leader Bishop Wolfgang Huber in an interview with epd urged more efforts to promote ecumenical co-operation in a country where there are roughly as many Protestants as Catholics. But he also warned against playing down the significance of Protestant churches, noting that the Pope in his address in Regensburg, "greeted the Orthodox before he addressed the representatives of the Protestant church". Mutual respect, said Huber in Budapest where he was attending a meeting of European church leaders, is "indispensable" for further ecumenical co-operation.
(c) Ecumenical News International
Photo : WORLD NEWS