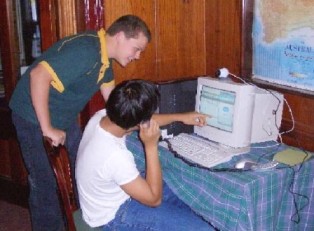 Uniting Church school Scots PGC College at Warwick has introduced voice over internet protocol (VOIP) technology for use by its boarding students, in both boys and girls boarding houses.
This a new Internet communication software has allowed both Australian and international boarders to talk with their parents, friends and relatives over the internet in real-time and face-to-face via a webcam.
Scots is using the Skype program allowing unlimited free voice and video communication between Skype users.
Head of Boys Boarding Mr Greg Wacker said, "It is important for the students to feel they can communicate with their family by phone, email and letters.
"Skype now gives the students the opportunity to see their loved ones where they can smile, wave, say hello and have that one to one video connection."
Photo : Boarders at The Scots PGC College calling home