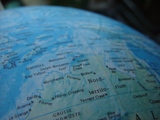 The World Alliance of Reformed Churches (WARC) has said that a South African church, suspended from the grouping in 1982, cannot be readmitted because it has not renounced the support for the apartheid ideology that led to its exclusion.
WARC leaders meeting near Port of Spain in Trinidad and Tobago heard that the Nederduitsch Hervormde Kerk van Afrika (Dutch Reformed Church), or NHKA, had not rejected apartheid or its theological justification despite its expressed desire to rejoin WARC.
"The NHKA has failed to show any shape or form of repentance for apartheid," said a report presented on 26 October to the meeting of the WARC executive committee.
The NHKA had been excluded from the global Reformed alliance because of the theological and biblical backing the church gave for the system of white domination under which South Africa was governed from 1948 until the early 1990s. In the year the church was suspended, South African anti-apartheid activist the Rev. Allan Boesak, a Reformed cleric, became WARC president.
The NHK has applied to rejoin the 75-million-strong alliance but WARC's executive committee said in 2005 that the NHKA first needed to demonstrate to the churches in South Africa and the world that it renounced apartheid "fully and completely".
A meeting in 2006 of WARC leaders and the leadership of the NHKA agreed that to be readmitted to the alliance, the church's general assembly needed to reject apartheid "as wrong and sinful not simply in its effects and operations but also in its fundamental nature".
In September this year, however, the NHKA's general assembly rejected by 262-260 votes the proposals drawn up by the denomination's leadership that would have allowed it to be readmitted to the world Reformed grouping.
The general assembly of the South African church then passed another resolution, and by the same majority, indicating that it "did not recant on apartheid or on its theological justification", said the report presented to the WARC committee.
A separate South African church, the Nederduitse Gereformeerde Kerk (NGK), whose name is also translated into English as Dutch Reformed Church, suspended from WARC in 1982, was readmitted in 1999 after it denounced apartheid as "wrong and sinful, not simply in its effects and operations, but also in its fundamental nature". The NGK is the largest of the Dutch Reformed denominations in South Africa.
The World Alliance of Reformed Churches is a grouping of 75 million Reformed Christians in more than 210 churches in more than 100 countries. It has roots in the 16th century Reformation led by Jean Calvin, John Knox and others.
Ecumenical News International
Photo : WORLD NEWS