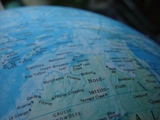 South African Anglican bishop Geoff Davies stirred debate among church leaders and theologians attending an Ecumenical Water Network conference in the Ugandan capital when he asserted that Christians were making a mistake if they believed God only cared about humanity, while the rest of creation existed for the benefit of people.
"Everything God created is good and has value. We make a mistake of thinking God is only concerned about us at our peril," the former bishop of Umzimvumbu (which means "the home of the hippopotamus" in Zulu) told the 21 to 25 May conference that discussed Africa's water crisis.
Davies quoted Wangari Maathai, the Kenyan environmentalist and first African woman Nobel Peace Prize Laureate, who says we cannot live without the rest of creation and that we are dependent on it.
Davies is currently executive director of the Southern Africa Faith Communities' Environment Institute and he said that human beings could not live separated from nature, nor see nature as an object to be exploited.
"If the natural environment does not survive, we won't," warned Davies, who shocked a congregation one Sunday, when he halted a service he was leading to tip a rubbish bag full of bottles, plastic and other junk onto the floor of Cape Town's St George's Cathedral. "The reality is that we are now in the midst of the sixth extinction. There have been five previous ones, millions of years ago. The big difference is that this time, we humans are causing it," he said.
"We must remember water is an integral part of the natural environment and we must look after the totality of the natural environment, if we are to survive and if we are to have clean water," said Davies who has been dubbed the "green bishop" by some of his peers.
His comments in Entebbe triggered strong reactions with some leaders agreeing with him while others stuck to the view that human being were created to have dominion over nature and thereby had a right to use resources to live.
"The Church is being challenged to play her prophetic role in raising justice issues and viewing environment and water issues as part of faith," the Rev. Maritim Rirei, a Kenyan Anglican church leader, told Ecumenical News International during the meeting.
Rirei agreed with Davies that humanity is slowly destroying itself, by failing to take action to save the environment. "There's a need for a paradigm shift in the interfaith focus on environment, theological training and advocacy," he said.
The Rev. Canon Grace Kaiso, the executive secretary of the Uganda Joint Christian Council said churches should lead the way in calling for responsible stewardship of the environment, because poor stewardship would undermine Jesus' mission of ensuring that people enjoy fullness of life.
(c) Ecumenical News International
Photo : WORLD NEWS