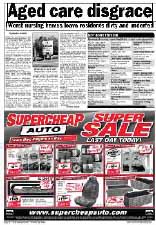 Age Care Queensland has said that yesterday's Sunday Mail story "Aged Care Disgrace" is misleading and alarmist; and it may cause unwarranted fear and anxiety amongst elderly residents and their families.
Selective comments from audits conducted as long ago as 2003 were used to imply that each of the 38 "nursing homes" named was found to be non-compliant in maintaining high standards of nutrition and cleanliness.
CEO of Aged Care Queensland Mr Allan Pidgeon said the report is grossly unfair, and the story makes no effort to look at the outcome of subsequent audits to give readers a picture of the current reality.
The fact is that there are 500 nursing homes in Queensland, and only three are currently subject to sanctions from the Aged Care Standards and Accreditation Agency ("the Agency") – the independent body mandated by the Commonwealth Government to supervise residential aged care.
Age Care Queensland said the reports relied upon by the Sunday Mail are historic – reflecting what assessors reported at the time of their visit, up to three years ago. In many cases the issues identified were remedied even before the assessor left the premises; and the home involved has subsequently been audited by the Agency and found to be fully complaint with every one of the 44 expected outcomes,
Mr Pidgeon said, "It appears that the reporter has listed the name of every nursing home that has received any non-compliance at all over the past three years, without identifying which of the 44 standards was involved and, more importantly, without highlighting whether it has since been corrected to the satisfaction of the Agency.
"In all cases the process is closely monitored by the Department of Health & Ageing to ensure that resident safety and the quality of care are maintained."
The 44 expected outcomes deal with all aspects of the facility's operations; under the broad headings of Management Systems & Staffing, Health & Personal Care, Resident Lifestyle, and Physical Environment & Safe Systems.
Four of the standards relate to the "Continuous Improvement" required in each of these areas to maintain compliance; while other standards cover items such as "Education & Staff Development", "Planning & Leadership", "Leisure Interests & Activities", "Cultural & Spiritual Life", and "Choice and Decision-Making". So the non-compliance reported at many of the homes named will often have nothing to do with the clinical care of residents.
"The Sunday Mail story does a disservice to those tens of thousands of dedicated staff who care for elderly Queenslanders," Mr Pidgeon said.
After conducting a recent study into aged care Professor of Ageing at the Australian Catholic University Dr Tracey McDonald said, "these people are wonderful … [with] … high standards of integrity, performing an absolutely essential service with goodwill and good intentions…"
Mr Pidgeon said that so far as he is aware, the reporter did not seek to actually visit any of the nursing homes whose reputations she has tarnished.
"She may find it instructive to come and see for herself the caring and professional way in which residents are treated."