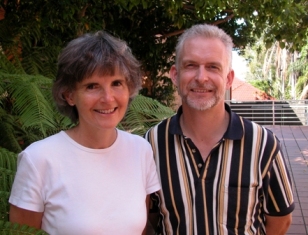 Ministry of the Word graduates from Trinity Theological College Lucie Bennett and Wayne McHugh will commence their placements as intern ministers at the start of 2006.
For Lucie, candidating for ministry was something she first thought about 20 years ago but it wasn't until three months before her husband was diagnosed with cancer that she received another call, and two years after he passed away she began her studies.
Lucie's focus is on working with the elderly and she has been placed with Wesley Mission Ipswich in Aged Care Chaplaincy.
"I'm looking forward to serving as well as learning, and giving of myself, rather than only receiving through study," she said.
Wayne explained that his call to ministry was really God's idea but there had been a lot of time building up to Ministry of the Word.
"I started by doing the Lay Preachers course and, at that time, Ministry of the Word was not something I ever imagined doing," he said
"I'm interested in lives being transformed by encounters with Jesus, and participation of the whole congregation in the Kingdom of God."
Journey is grateful to UCIS (the Uniting Church Investment Service) for their generous support of Lucie and Wayne.
Photo : Ministry of the Word graduates Lucie Bennett and Wayne McHugh