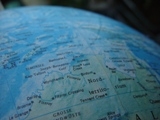 With news emerging from the Philippines of hundreds of people dead and many more displaced after severe flooding, Kathy Pereira, Associate Director (Experience Programs) has spoken to Uniting Church volunteer, Elizabeth Mullan. Ms Mullan is based at Smokey Mountain in the Philippines and said she is safe but feeling helpless amidst the chaos.
UnitingWorld is in contact with our partner, The United Church of Christ in the Philippines (UCCP), to express the solidarity of the Uniting Church in Australia at this difficult time and to explore ways in which UnitingWorld can assist.
For our partner church the hardest hit Jurisdictional Areas are the North Luzon and the South Luzon areas. Victims of flash flood are also reported in some areas of Mindanao.
UCCP Minister, Rev Ricardo Bernardino, reports: "The only places I have visited so far are barangays [districts]in our city and some evacuation centres. particularly Lingga which is flooded. The water is high … They were not able to have their worship today since the church was used as an Evacuation Centre because there are also waters on covered courts and all schools are full of evacuees. In days to come epidemic might be the next problem in overcrowded centres like these".
"70 families, including members of our church here in Lingga are part of those evacuees. Flood waters also reached Malaban, Sucol and Binan, the damage are almost the same with the San Mateo and Banaba Churches. They are not giving me information yet I am only getting it from other people, our Rizal Coordinators and Quezon Coordinators are not responding to any of my messages. Evacuees in Lingga told me that like last year, it will take until Christmas for the water to subside," he said.
The UCCP has appealed for our prayers.
Please be in prayer for UnitingWorld staff and members of the UCCP as they consider how the Uniting Church might support the thousands of families, especially the poor communities, who are now rendered homeless, hungry and traumatized by this unprecedented disaster.