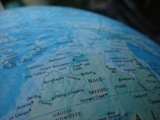 AS baskets of chocolate, stuffed bunnies and egg coloring appear in stores, it seems as though Easter is becoming more of a springtime festival than a solemn, though joyous, Christian observance.
However, the Meaningful Chocolate Company, based in Manchester, England, believes that while candy is dandy, the real meaning of Easter should be part of the seasonal treats. Its four ounce (125 gram) milk chocolate Real Easter Egg includes the story of Jesus' resurrection on the package and part of the price (four British pounds) includes a charitable donation.
The company also assures customers that it adheres to fair trade principles under the Fairtrade organization, an international non-profit that licenses the use of the Fairtrade sign.
This identifies products of companies which pay higher-than-normal prices to farmers who grow cocoa, coffee, tea and other agricultural commodities in the Third World, particularly in Latin America, the Far East and Africa.
Company spokesperson David Marshall told ENInews that in 2008, "one of our co-founders, who had a ten-year record of promoting ethical trading … came up with the idea of the Real Easter Egg.
It is the UK's first and only Fairtrade charity egg to mention Jesus and the events of the Christian period of Holy Week on the box."
Prior to its launch, none of the 80 million chocolate Easter eggs sold in the U.K. mentioned the Christian story, Marshall said.
In 2011, he said, "the Real Easter Egg became the U.K.'s top selling mail order egg and was stocked across the U.K. by leading retailers."
He told ENInews that the company and staff like to think that they are continuing the work ethic and philosophy of some of the great manufacturers of chocolate in the 19th century.
Nearly all were Quakers and included such household names as Rowntree, Fry and Cadbury.
Their business principles included improving the lives of their workers and contributing to social justice.
In the U.K., eggs are given as presents on Easter Sunday and egg rolling is popular on Easter Monday among a rapidly diminishing band of traditionalists.
Hard boiled eggs are rolled down hills and the winner's egg is the one that rolls the farthest.
The connection of eggs with spring pre-dates the Christian era.
Eggs as gifts to pagan gods at the end of winter were common in pre-Roman Britain.
The church "Christianized" the practice soon after the arrival of St. Augustine in 597 AD. Decorating and coloring eggs for Easter was a common custom in England in the Middle Ages.
An Anglo-Saxon legend told of how the pagan goddess Eostre found a wounded bird and transformed it into a hare so that it could survive the long, bitter winter.
Miraculously, the hare found that it could lay eggs, so each spring, as flowers burst into life, eggs were decorated and left as offerings to the life-giving goddess.