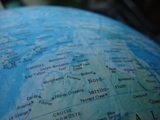 AMERICAN pop star Lady Gaga cancelled a scheduled 3 June show in Indonesia after religious authorities threatened violence over her risque outfits and provocative dance moves.
More than 52,000 fans bought tickets to the sold-out 3 June concert in Indonesia's capital, Jakarta.
But thousands of members of a group called the Islamic Defenders Front (FPI) had threatened to turn up at the airport if Gaga (whose real name is Stefani Germanotta) arrived.
Others who had bought tickets vowed to "burn the stage" if she brought her trademark leotards, racy choreography and support for gay rights.
FPI leader Salim Alatas said the cancellation was a victory for Indonesian Muslims, remarking, "thanks to God for protecting us from a kind of devil."
Religious Affairs Minister Suryadharma Ali also welcomed the cancellation, saying it would benefit the country. "Indonesians need entertainment and art which have moral values," he said.
Immediately prior to the announcement, Gaga wrote on her Twitter account:
"There is nothing holy about hatred.
"I'm so very sorry to the fans and just as devastated as you if not more.
"You are everything to me."
Earlier this month, religious protests in the Philippines from Christians apparently fanned interest in the singer and her two Manila concerts were sell-outs.