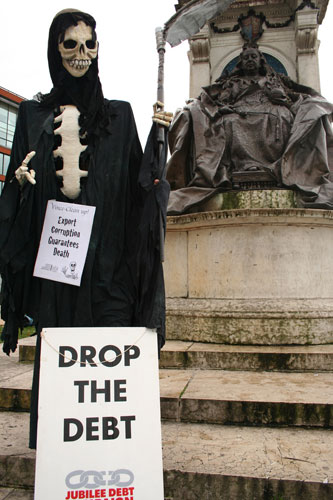 WHILE the Queen's Diamond Jubilee celebrations dominated the media in early June, the dissenting voices of some Christian groups were raised behind the pomp and pageantry.
The presence of anti-monarchist protestors at the celebrations was not unexpected, but some of the demonstrations that occurred across the United Kingdom had a more pressing message than republicanism: a radical, even prophetic, call toeconomic justice.
Christians from all denominations are among the multi-faith protestors who continue to challenge the status quo during this Jubilee year.
Christianity Uncut, a network whose supporters include clergy, theologians and writers, pointsout that "jubilee" is a biblical concept originally about a time of justice when slaves were freed, debts cancelled and equal relationships restored.
The celebration of a jubilee as a special year of remission of sins and universal pardon kept every 50 years has its origins in Leviticus 25: 8–55.
The protestors say that, ata time of cuts and huge gaps between rich and poor, this is the jubilee that society really needs.
Global poverty campaigners first applied the idea of jubilee to the Third World debt crisis during the 1980s, and the Jubilee 2000 movement saw $120 billion of debt cancelled for developing countries, resulting in increased spending on schools, healthcare and social development.
As a new cycle of debt and austerity hits home throughout Europe and across the world, the Jubilee Debt Campaign has renewed its mission, calling for 100 per cent cancellation of the unpayable and unjust debts of poor countries.
The campaign has launched a Jubilee for Justice petition, andis asking faith leaders to sign an open letter to the British Prime Minister calling for a renewed jubilee.
Source: www.ekklesia.co.uk The Jubilee for Justice petition can be viewed at www.jubileedebtcampaign.org.uk
Photo : Protestors calling for a biblical-style jubilee, with countries to be forgiven unfair debts, joined crowds celebrating the Queen's Diamond Jubilee. Photo by Stephen Pennells. www.flickr.com/photos/wdm_manchester/6315620313/