Joan Beavis lives in West End, Brisbane where she ministers to the lost and vunerable people of her community.
My mother Nellie would hold the hands of the lepers in the hospital on the tiny island of Ubuiua in the Milne Bay district of Papua New Guinea. My father, Bert Cuff, had built the hospital, commissioned by the Methodist Overseas Mission.
In the 1950s it was believed that you could catch leprosy, so these people were the outcast and the isolated. Yet their relatives carried their crippled family members over mountainous terrain to get treatment, and we cared for and gave dignity to these vulnerable people.
My faith story begins in this remote place and intersects with the story of the community of West End, the inner city suburb of Brisbane where I have lived for more than 35 years.
I came here to train as a young nurse in the 1970s, a time of political, social and spiritual upheaval.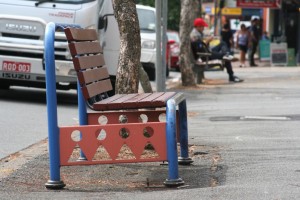 I worked with Vietnam vets, who were often isolated and outcast, and discovered Christians who were involved in the protest movement. I joined the House of Freedom ecumenical community, where we lived together in share houses. We had a vision of a caring Christian community on the side of the powerless and oppressed, and tried with all our energy to put that into practice.
Later, with four young children, my husband and I joined the West End Uniting Church, which has a rich history of community outreach and advocacy. The church has just celebrated the 60th anniversary of what began as the Blue Nursing Service, now known as Blue Care, an outreach of the Methodist Mission at West End in 1953.
West End has always been a community under pressure, located just across the river from Brisbane's Central Business District. It is the place of the water rat (Kurilpa), of Indigenous, Chinese and post-war migration stories, of lace ironwork cottages, community housing and new apartment blocks, and of factories, offices and cafés. With its mix of cultures and occupations, former premiers and struggling artists rub shoulders in the streets with new migrants, refugees, young professionals and social housing residents.
It is here, standing with the outcast and the vulnerable as they share their story in the street, in the shops, in the library, outside my door, that I continue to meet Christ. They live across the road and down the road; they sit on the benches and camp out at the busy intersection which marks West End.
Mental illness, like any other illness, doesn't know about days off or about night and day. And just as there is no edge to living with illness, so there is no edge to a faith that is lived as an integral part within the community.
Whether it's engaging with those people who come on Sundays and sit in a church where they feel safe and included—comfortable enough to ask for prayers for the Broncos, or to stand beside the minister during the sermon, or to sing heartily with earphones on—or engaging with those same people as they drop in to pick up a free coffee from the café owner who knows them by name, there is no edge.
There is mutuality here. The same person who asks for prayers for her entire family on Sunday will notice the splint on my arm and ask for prayers for me next Sunday. We grieve together when a young woman dies alone, worry about the barefoot girl, and celebrate when the silent man begins to speak a few halting words.
This is a place where the shopkeepers and other locals will look out for people with health challenges, so there is a natural network of care and information.
The churches in West End have always worked together with a natural ecumenism to look after those who need support. Whether it is sharing resources, facilities, information, networks or events, West End Uniting Church has a strong connection with St Andrew's (Anglican), St Francis (Catholic), St Mary's and the Greek Evangelical church. Our Easter Stations of the Cross, when a bare wooden cross is carried up and down Boundary Street on Good Friday, is supported by these churches and by shopkeepers, locals, and artisans. It attracts about 100 people as we move from station to station to pray.
Living alongside people who struggle with mental illness means allowing a person to see the world through a different lens, whether it be standing under a street light at 2 am as the patterns cast through the branches of the tree speak to him of God, or reading the Bible in the street window of the Greek Evangelical church.
Each one of these "outcasts" has the right to feel at home here, and the right to be just as visible as the diners who come to West End to sample the eclectic food and culture.
We need to learn how to listen to people, and to understand how they interpret the world. When a person is listened to, they are engaged at that point of their journey. It is about walking with them as they nurse their bruised hearts.
That is the intersection of the Cross, that their burdens might be lifted.