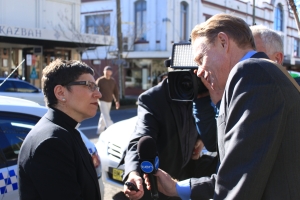 National Director of UnitingJustice Rev Elenie Poulos and members of the Uniting Church who work with asylum seekers have spoken out on the sidelines of a Federal Government Caucus meeting in the Sydney suburb of Balmain.
Ms Poulos told assembled national media that the Government's policy of sending all asylum seekers arriving by boat to Papua New Guinea for resettlement is "a gross abdication of our moral responsibility to care for people who come to us seeking protection."
"This is the end result when you treat asylum seekers and refugees as political footballs," Ms Poulos told reporters outside Balmain Town Hall.
"As a rich, wealthy, secure and stable country we have a greater responsibility to care for the most vulnerable people.
"Policies that intend to punish rather than protect are totally inappropriate.
"It is simply not a Christian response to shut our doors to people in need.
"The Good Samaritan principle requires us to help those in need and be generous in our response to them. To close ourselves off like this is contrary to that principle."
Ms Poulos, who is also Chairperson of the Australian Churches Refugee Taskforce, raised concerns that Australia was shifting its burden of refugee processing on to Papua New Guinea, one of the most impoverished countries in our region.
"Policies of protection are paramount. We're very concerned about people drowning at sea. What we want is for people to feel safe where they are and not want to get on boats in the first place."
"That should be the Government's priority—policies of protection rather than policies of punishment."
Ms Poulos rebutted the notion there was such a thing as "a queue" for asylum seekers.
"The queue is a fabrication. There is no queue if you're a person in Syria who's had to flee your home. There is no queue in Afghanistan, in Iran and Iraq," she said.
"There are millions of refugees in the world. All of them are struggling and we have a responsibility to care for people in our region.
"At home too, churches and church agencies are picking up the pieces with asylum seekers and their families in the community who have been stripped of their work rights by the Government's policies of forced destitution.
"The cruel punishment of vulnerable people has to stop."
When asked if Prime Minister Kevin Rudd's actions matched his professed admiration for German theologian Dietrich Bonhoeffer Ms Poulos disagreed.
"Dietrich Bonhoeffer stood for protecting people in need and put his own life on the line to make sure others would be safe," she said.
"It's a very sad situation where we have politics overriding the care of people in need."
Photo : UnitingJustice National Director Rev Elenie Poulos speaks to Channel Ten reporter Hugh Riminton outside Balmain Town Hall