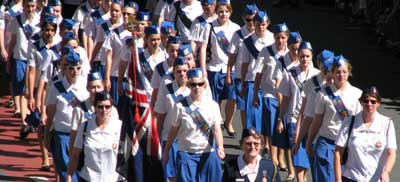 While some argue about public holidays and pay rates, 'high' days and holy days are sensitive topics in the Christian church for entirely different reasons. The Uniting Church is no exception.
WHILE CHRISTIANS often bemoan the secularisation and commercialisation of 'our' special days such as Easter and Christmas, we struggle to identify with some of the milestones on our community's shared calendar.
Perhaps struggling with religious and political correctness, we are unsure about expressing emotions surrounding patriotism, belonging, and national history.
For many Australians, Anzac Day is arguably the nearest thing to a holy day. The One Day of the Year is almost a sacred moment, set apart, which somehow touches Aussie spirits in a way we wish that Easter would.
However, there is a religious connection to Anzac Day buried just outside Herberton in North Queensland in a small bush cemetery.
The words, 'A Priest', are embossed on a white cross, and a plaque stands nearby engraved with the following details:
"Adjacent to, and on the right of this marker, lies the grave of Reverend Arthur Ernest White, a Church of England clergyman and padre, 44th Battalion, First Australian Imperial Force. On 25 April 1923, at Albany in Western Australia, the Rev White led a party of friends in what was the first ever observance of a dawn parade on Anzac Day, thus establishing a tradition which has endured Australia-wide ever since."
And ever since, in that minute of silence at the cenotaph, big questions are asked: What is a life worth? What is a right way of living? Do the fallen live on?
Is there an honourable purpose in war, or only a terrible scarring loss?
And do the Anzac values of sacrifice, commitment, and suffering have any parallel in the Christian world view, or are they simply a gloss to hide an absolute contrast with Christ's way of life?
Since he joined the school cadets in 1963, Anzac Day has always been a 'working day' for Major Ross Eastgate.
The long-time ABC telecast commentator and historian always went to the dawn parade, and then the mid-morning community service in Bundaberg with his dad.
"It's not a public holiday thing, it's a duty," he said. "It's an obligation to give some time for those who gave their everything so that my kids and grandkids can enjoy the life too many Australians take for granted."
Mr Eastgate then goes on to talk of the city of Adelaide , which was once noteworthy for the lack of permanent tenure on most graves in the city.
However after WWI, the Adelaide Cemetery Trust established an Australian Imperial Force cemetery near the community cemetery on West Terrace. It was opened in perpetuity to veterans of the First Australian Imperial Force.
"All faiths see death as the ultimate milestone in our physical lives," Mr Eastgate said. "They all hold some belief in an afterlife – a reward for the virtuous, a penance for the others.
"By creating a space for the reverence of the mortal remains of those who served, Adelaide was saying, 'Here is your community's reward for what you gave for us'.
"There is a seriously religious overtone to a state's official reverence towards the remains of its war dead and veterans."
Yet times have changed and so has the geography and level of debate about war.
Thousands of conscripts no longer die in trenches for 'King and Country'. However, the Anzac legend is being rewritten in the current global conflict.
Australian service personnel pay with their lives to maintain a way of life we enjoy in Australia.
Our church seems unlikely to reinvent the Roll of Honour on the walls. At a time when the Uniting Church in Australia debates even the use of Australia's flag in church services, how do we link something Australia holds dear with the way we understand and express our faith?
Thousands of us will continue to march or watch on Anzac Day, even if we can't quite say why.
Story by Phil Smith, a broadcaster, speaker, writer, and former RAAF Squadron Leader
Photo : Girls Brigade members march in the Brisbane City Anzac Day Parade. Photo by David Close